What's new in this version:
- New Windows tray popup
- Balloons: more varieties, more fire
- Village: click Millie 3 times
New Windows tray popup
It looks great and reflects YoWindow Inspector almost identically.
It is easy to read.
It opens fast and reliable.
We hope you will enjoy it

New tray popup
Pay attention that we are trying a new way to display feels-like temperature.
In the popup feels-like temperature displayed to the left of the main temperature.
This way Inspector looks more compact and the temperatures are easy to read.
Old tray popup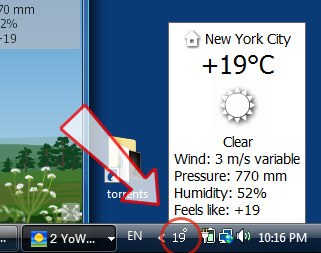 Download new YoWindow

Also I want to express a gratitude to our forum team.
I am impressed by the number of flaws you have found in the beta builds of this feature.
I think the quality of this release is perfect.
Because of you.
Thank you