Big news!
Now you can turn any picture into YoWindow landscape!
Make sure have the latest build of YoWindow installed.
Download it here:
http://yowindow.com/download.shtml
A regular picture looks amazing when the sky is replaced with YoWindow living sky.
This is a picture of Rome Colosseum we have found on Flickr.
This is the same picture added to YoWindow.
We have removed the sky from the original picture to replace it with YoWindow sky.
Scroll the time to experience different light and weather conditions.
Click the picture to open it in YoWindow online.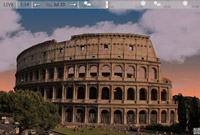 You know what?
Now you can create a landscape like this yourself.
From your own picture, taken with your camera.
Follow
our tutorial
explaining how to turn a regular picture into YoWindow landscape.
There are many live-sky landscapes created for YoWindow by our friendly community.
The landscapes are made from real photos taken around the world.
Browse through our
Landscape Collection
.
We wish you to find the landscape of your dreams

And you know what?
We want you to
contribute
your place in our collection.